Best Postage Meters of 2023 | A Review of The Top 30 Picks
Here you will find a quick comparison of some of the highest-rated postage meter machines to fit the needs of any business or office. We took a look at dozens of these machines to provide you with the top most popular pieces of equipment.
Every day, businesses large and small send out thousands of packages and letters through the mail.
And, with so many correspondences going out it's no wonder that businesses put their heads together to come up with a money-saving postage solution. That solution is the postage meter.
While the postage meter was a game-changing invention and a unique way for businesses to quickly, efficiently, and affordably get their mail out, a new problem arose. Countless postage meter brands began cropping up, leaving business owners stuck trying to figure out which, out of all the options, were the best postage meters.
Pitney-Bowes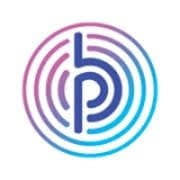 For small businesses, often one of the major barriers to getting a good piece of hardware is the cost to rent a postage meter.
That's typical because they're looking at postage meters by manufacturers who focus exclusively on large business needs rather than gearing their products toward small businesses.
If you're looking for a few postage meters that work for your small business, Pitney-Bowes machines are a perfect place to begin. They offer machines that help small business operations stay streamlined and at a low cost.
SendPro C
The SendPro C devices are perfect for businesses that don't have a huge volume of mail to send out. While the device is very modern and has a touch screen and built in-scale, it's not overly large or complicated.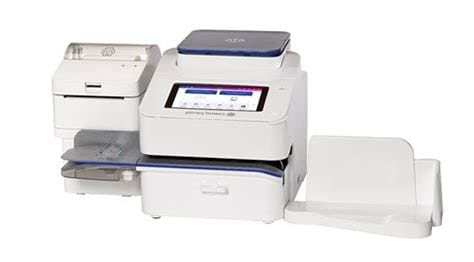 SendPro C has the capacity to stamp and prepare up to 65 letters every minute. That means that you can handle a smaller volume of mailings at a relatively quick rate.
SendPro P-Series
If you're needing something a little more all-inclusive, the SendPro P-Series is another great postage meter device for smaller organizations.
This postage meter allows for all the same functionality as the SendPro C devices. However, the P-Series also has a feature that lets users log the receipt of incoming mail.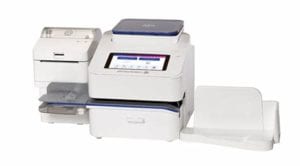 DM400 Digital Postage Meter
Next in the lineup is a larger line of postage meters. The DM400 is the smallest in this series, but it's still quite a bit larger than the SendPro lineup.
One of the ways this postage meter stands out is that it has instant refilling capability. Your business can restock on postage with just one tap!
Similar to the SendPro series, this postage has logging capability, weighing services, and postage generation.
It's also compliant with Australia Post, enabling you to send packages abroad as needed – perfect for international operations.
DM450 Postage Meter
The DM450 is a slightly more advanced version of the DM400. It too can be integrated with the Australian Post system and allows for instant one-tap refilling. And, with 24-hour availability, you can submit refill requests at any time of the day or night.
Like the SendPro line, this postage meter comes with an integrated weighing system. The meter can handle packages up to 35kg, so you can ship any size package needed.
Another benefit of the DM450 is that it allows for extra thick letters and packages. You're able to stamp and mail letters as thick as 8mm.

Quadient
One of the other big-name brands in the postage meter industry is Quadient.
Formerly Neopost, Quadient is a company that has been around for years and truly understands what solutions small businesses need for their postage.
And, they understand big businesses too. They've got a number of different options that work for larger organizations and help them get situated too.
IS-280 Postage Meter
One of the simplest and smallest postage meters Quadient offers is the IS-280 postage meter.
This postage meter is perfect for smaller businesses that aren't processing a huge amount of mail each day.
The machinery is incredibly quiet, meaning that it can be running in the background of your business without interfering with daily operations.
Similar to the Pitney-Bowes devices, this machine offers 24/7 postage stamp reloadability. If you need new stamps you can use the one-touch feature to quickly add funds to your account and download new stamps.
This postage meter can even be used for a sole proprietorship because of its compact size.
iX-3 Series Mailing Meter
Another great piece of equipment from Quadient is the iX-3 Series device. Similar to some of the smaller Pitney-Bowes machines, this is an excellent choice for small business owners.
This device also allows for personalization. That unique feature lets you apply your own logo or imagery to the letters, creating more brand awareness for smaller companies.
What's more, this device saves users 5 cents per letter sent. That means that over the course of a year you could be saving hundreds of dollars on your postage.
One of the top advantages this mailing meter offers is its compliance features. With integrated IMI (Intelligent Mail Indicia) you know that your postage is always compliant with USPS regulations.
iX-5 Series Mailing System
The iX-5 Series is next in the lineup of powerful Quadient postal printing systems. This mailing machine is better geared towards medium-sized businesses.
One of the benefits of the iX-5 machines is that they allow for more customization in the actual build-out of the machinery. Users can choose from a fully automated paper feeding system or an assisted hand mechanism.
It also employs a weighing system so that you can verify the weight of letters and packages and ensure you get the correct postage.
Once again, this system includes the IMI capability so you know that you'll always meet the USPS postage requirements before sending anything out.
iX-7 Postage Meters
The iX-7 is the next size up from the iX-5 machine. This postage meter is best for large companies that are processing high volumes of mail on a daily basis.
Its intelligent feeding system allows you to feed various sizes and weights of envelopes and packages at a time so that you don't need to make multiple trips to the machine.

It too includes IMI capability that ensures the correct postage for your particular class of package or letter.
IS-5000 Postage Machine
After the iX Series, Quadient came out with two high volume mailing systems. The first of those is the IS-5000 postage meter.
This one is a highly user-friendly machine that incorporates savings and investment assistance as well as ergonomics to ensure a comfortable and useful experience.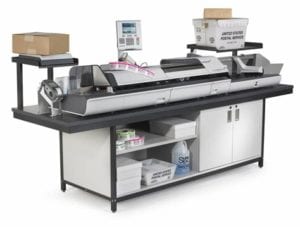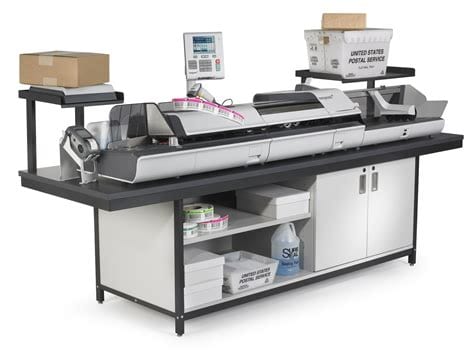 It can also measure and weigh, stack, and seal as many as 300 letters every minute – and all that is done completely automatically!
With that kind of speed and functionality, the IS-5000 machine has quickly become the perfect solution for mid to large size companies.
IS-6000 Postage Machine
The last and largest mailing machine that Quadient offers is the IS-6000. This piece of equipment is a true powerhouse when it comes to pre-labeling postage.
The main benefit of this machine is its full-service capability. Its design is extremely user-friendly, allowing for large screens and many adjustment functions so that you can set it to your personal preferences.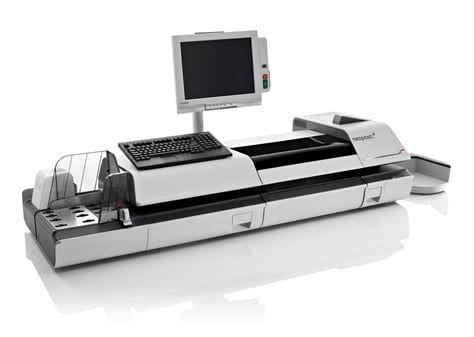 On top of that, it contains an integrated keyboard for simple set up of the device. Plus, if you ever get stuck, its built-in wizard walks you through the mailing process and the machine's capabilities.
Better yet, this machine comes with communications functionality. You're able to continuously improve your mailing systems with machinery that learns with you.

Hasler Mailing Machines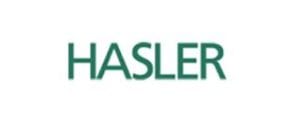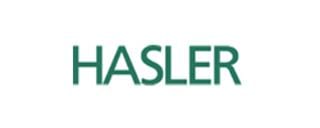 The third manufacturer of postage meters that work well for businesses of any size come from Hasler.
Hasler, similar to Quadient, is another offshoot of Neopost, meaning that it's been in the postage industry for decades.
Due to their long history of supplying US-based businesses with postage meters, they've been able to develop a few truly advantageous postage meters for business owners to take advantage of.
IM-420 Series
This postage meter is comparable to the Pitney-Bowes SendPro C mailing meter. It has the capability to feed 65 letters per minute through its feeder, enabling you to mail a smaller volume of letters.
This is a great piece for small business rental because it includes the type of functionality needed without coming with the hefty costs associated with larger mailing meters.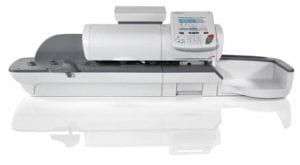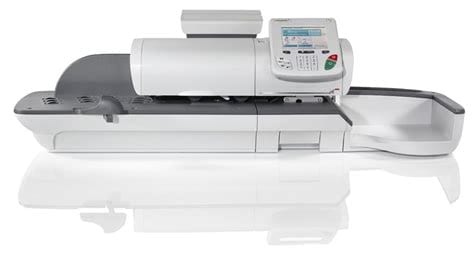 Once again, like the SendPro C device, this machine includes a weighing system to make calculating the correct postage a simple and easy process for any business owner out there.
WJ-20 Postage Machine
The WJ-20 is one of the most compact postage meters out there. This particular mailing meter takes up very little space, so it can be placed on any end table or spare desk in the office.
Because of its size, it doesn't allow for a huge volume of mail to be sent out each day.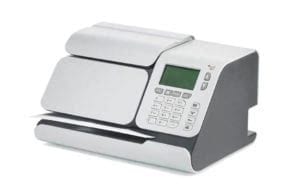 However, it can easily process the same amount as the IM-420 Series, making it another viable option for small business owners looking to get out a lighter volume of letters and packages.
IN700 Model
For much larger companies, the WJ-20 or the IM-420 might not be the best choice. That's because these machines won't be able to handle more than 65 letters every minute.
That's where the Hasler IN700 comes in. This machine is perfect for business owners who plan to send out a higher volume of mail each day.
That's because it can process packages weighing up to 70lbs and has the ability for 50 different users to use the device. With that many users, everyone in the office is able to send out the mail they need to with ease.
It also includes a remote label dispenser so that you can print out packaging labels even when not in the office.
Hasler IN 600 AF
Last but certainly not least in the Hasler line-up is the IN 600 AF. This postage meter is the perfect middle ground between the simplistic WJ-20 and the IN700 model.
It can't process as many letters or stamps per minute as the IN700 can, but it still has the capability to process more than the minimal 65 per minute that the WJ-20 offers.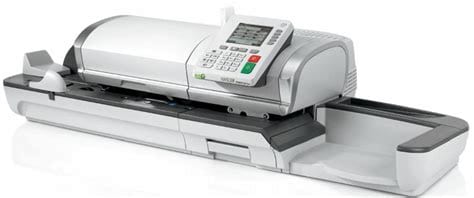 What's more, because of the larger size, its design is able to include unique features such as ergonomics to create a more comfortable experience for the user overall.
The Hasler IN 600 comes with a number of different automation features, such as an automatic reader and an automatic feeder. That adds to the user-friendliness of its design and makes it convenient for busy offices.

Streamline Your Mailing Process With a Postage Meter
A postage meter is a game-changing piece of equipment. Once brought into the office, companies find themselves able to not only process and send out more mail, but also to keep better records of the packages that they receive on a day-to-day basis.
There are so many different types of postage meters, making it the perfect addition to any office large or small.
As you can see, postage meters aren't just available for very large companies to use. In fact, some of the best postage meters come in sizes that simply wouldn't make sense for huge organizations with a high volume of mail.
So, are you ready to change the way that your business process its incoming packages? Are you ready to simplify your outbound mailing processes? Do you want to start saving hundreds of dollars each year on postage?
If the answer was yes, it's time to get started with a postage meter for your office. Check out the postage options that we offer and select the perfect rental for your business.

You can prioritize based on volume, price, or other features to find the meter that best fits your mailing needs. To get detailed information on current pricing on the perfect piece of equipment for you, just take 30 seconds to tell us about your postage meter needs and you'll get immediate feedback from suppliers in your area.
FP Postage Meters: Read Review
Pitney Bowes: Read Review
Quadient (Formerly Neopost): Read Review
Hasler: Read Review
Postage Meter Buyer Advice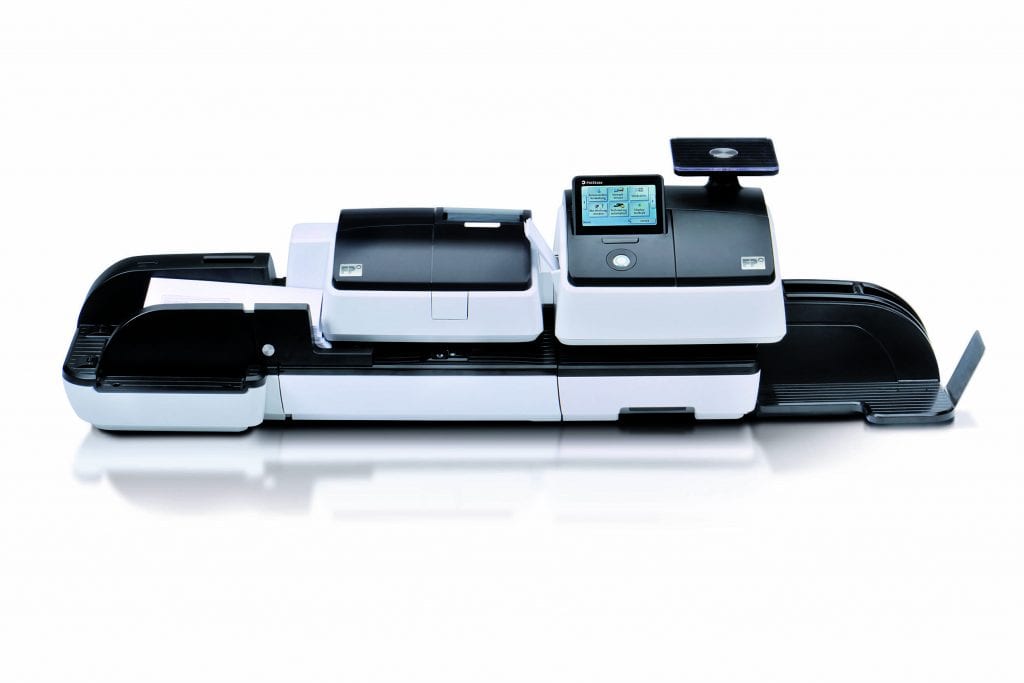 Does your company still use stamps for sending your mail? Do you know there is a more efficient and cost-effective way to send your mail?
Currently, you can save $0.05 when mailing envelopes up to 3.5 ounces if you use a postage meter to stamp your mail. Postage meters can also eliminate the majority of reasons your business needs to go to the post office at all.
You can refill your meter's postage either over the internet or the telephone. Many postage meters come with scales to weigh your mail and the ability to print your stamps and shipping labels.
There are many different postage meters to choose from. Some are very basic and include just the ability to print your stamps, but many are now very advanced. They can weigh your mail, stamp it, seal it, and much more.

Track Postage & Monitor Expenses
Some postage meters can help you track postage for billing or accounting purposes. These will allow you to monitor your expenses by a particular client or user.
By analyzing where and how you are spending your postage dollars, you can look for options on how to lower your costs. Some of your expenses may be charged back to clients or other accounts or departments, depending on your individual business needs.
When trying to determine what type of postage meters may work for your company, take some time to figure out a few things about your current (and future) mailing needs.
Try to answer some questions such as how many pieces of mail you send out each day, what types of letters or parcels do you send, and what mailing services do you usually take advantage of.
How much do you spend on postage and other mailing services? Do you ever run out of stamps during a large mailing, such as monthly billing mailing, which requires someone to run to the post office for additional stamps?
Do you use certified or other tracking services? Do you send a lot of heavy packages?
By having a good grasp of your mailing needs, you will be able to focus on the types of postage meters that will work best for you.
Keep in mind that most rental prices do not include the postage you'll pay for shipping or other specialty mailing fees (such as insurance, return receipt for merchandise, etc.)
Order Your Postage Meter Today
Whatever your needs are for your business, there is a postage meter that can help make sending your mail and packages easier. This will save you and your staff time and money.
Comparing the different postage meters can be a bit overwhelming and confusing. We can help you figure out the right machine.
Contact us today for a quote on renting or leasing your new postage meter.

List of Popular Postage Meters