The Hasler IN-600 HF: A Brief Review
The Hasler IN-600 HF is one of the most impressive postage meter models on the market. This mailing system is designed to be both practical and versatile. It's a great fit for businesses that have to deal with large quantities of mail. This is another excellent product from Hasler INC.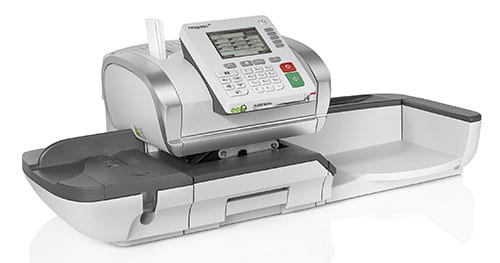 The Benefits Of The Hasler IN-600
One of the prime benefits of this mailing machine is its clean and attractive design. The device features clean, contemporary lines, strong edges, and appealing aluminum accents.
This particular model is also designed to be highly versatile. This device from the IN600 series is an extremely efficient way to move your mail, and it's extremely practical as well.
Power assisted hand feeder with moistener
Processing speed up to 75 letters per minute (lpm)
Automatic thickness adjustment up to 1/2″
Rate Wizard makes USPS® postal rate selection simple
Choose from over 140 USPS® rates and services
Personalize items and help promote your business with ad slogans, custom text messages, QR codes or company logos
Features Offered By The Hasler IN-600
This device certainly isn't lacking in features. It has a wide range of features that can be used in an array of situations. For example, it offers a power-assisted hand feeder that includes a moisturizer. It's able to process mail at speeds of 75 lpm.
It also offers a number of personalization options. From ad slogans to QR codes, you can customize the mail you send out with ease.
In addition to the features listed above, this mailing machine comes equipped with a variety of other features. It includes an automated, integrated label dispenser, and it also offers a number of iMeter apps. Your mail data can be tracked and viewed online via myNeopost. You can also track and allocate your postage usage. Using this machine will allow you to manage your mailing options more efficiently.
Who Is The Hasler IN-600 Designed For?
Obviously, this mailing machine isn't going to be a good fit for every business. It's designed for companies that process medium amounts of mail. It is able to process items at speeds of about 75 letters per minute.
With that said, the versatility of this machine means it can be useful in a range of situations. It allows users to choose from more than 140 USPS rates and services, and it offers 35 standard accounts. Any business looking for a medium volume mailing machine should be impressed with what the IN-600 HF is offering.
How The IN-600 HF Can Save You Money
When people look at the IN-600 HF, they often focus on the cost of renting the machine. Many people neglect to consider how this machine will help them reduce their spending. The Commercial Rates App will allow you to find the best available rates on Priority and Express mail. Those kinds of savings can really add up over time.
The machine can also save you a great deal of time, which means you can focus more of your attention on other tasks. Once you've invested in a machine like this, it should wind up paying for itself.
The Environmental Benefits Of The Hasler IN-600 HF
This machine is part of Hasler's Eco label, which means the product is specifically designed to be environmentally friendly. Unlike many mailing machines on the market, this machine is designed to reduce energy consumption. It even offers a sleep mode feature!
Beyond that, both the raw materials and the packaging for this product were chosen with the planet in mind. Hasler is truly committed to reducing their carbon footprint, which means you can lease a machine like this from them with complete confidence.
How Does This Machine Compare To The Hasler IN-600 AF?
The Hasler HF and AF have a number of differences. The AF has a fully automated feed, while the HF has a semi-automated feed. The AF also has a slightly faster processing speed of approximately 110 letters per minute.
That stated, these machines also have a lot in common. Both machines offer budget optimization and online management tools, and the two systems have similar looks and dimensions. It's a wise idea to compare the two machines closely if you're trying to decide which machine you should get. You can see the full system specifications and side-by-side comparison of the Hasler IN600 HF versus the Hasler IN600 AF in this document.
The Hasler IN-600 is clearly a machine that's designed to impress. This machine is used by a wide range of businesses and facilities, including offices and hospitals. If you're looking for a fast and effective mailing machine that can handle medium volumes of mail, you'll want to give this machine a closer look.