Postage Meter Cost Guide
Since you can only rent or lease postage meters for your company for a year or more depending on the needs of your business, the first thing you have to consider is to acquaint yourself with the prices in terms of the type that you are going to operate and the volume capacity of this equipment.
Also known as franking machine, a postage meter is a mechanical machine that imprints on your letter or parcel an amount of postage or postage stamp. It also marks your letter once it is cancelled or dated postmark. Mainly used for bulk mailing, postage meters are utilized by companies for their mailing needs and are regulated by the country's postal authority. Postage stamps become the proof of payment instead of using adhesive stamps. The equipment varies on the speed of the processing, the type of materials it handled, and the capacity of its storage.
The USPS authorized providers of postage machines to charge rental prices based on the type of postage meter that you plan to rent. Each postage machine has its own function and capacity. There are two types of postage meters, which will give you an idea on how they are being priced. Here is a quick guide to these machines based on their functions:
Digital Meters – These machines print postage through an inkjet cartridge that uses special postage ink. They provide additional security by using a two dimensional barcode which identifies the sender and the destination. The rental price for these postage machines ranges from $10 to $200 per month. It can cost even more for high capacity machines.
Internet and Stamp Based Meters – These machines allow the user to print postage from a computer or stamps printers. Newer technology even allows eBay and PayPal users to print postage using completely browser-based online postage solution. The rental price for this machine ranges from $15 to $30 per month.
You can also categorize this equipment based on the following volume capacities:
Low Capacity – This postage machine is for companies who send less than 1000 items per month. Its rental price range starts from $10 to $35 per month.
Medium Capacity – This postage machine is for companies that send around1000 – 5000 items per month. Its rental price can range from $50 to $200 per month.
High Capacity – This postage machine is for companies that send more than 5000 items per month. Its rental price can reach up to $1000 per month.
While usage on the machine is the number one basis of some companies in determining their rental price, be mindful that the direction of these rates is upward. Nevertheless, it is important to note that the rental price ranges mentioned above do not include the actual shipping or mailing fees. In the end if you want to get the best postage meter deals, you must evaluate the mailing and shipping needs of your company. This will help you know the right type of postage meter based on its function and capacity.
COMPARE QUOTES
Buyer's Guide: The Cost to Rent Postage Meters
Postage meters are a necessity for businesses of all sizes, especially for large businesses that deal with high volumes of mail. They save time and money by accurately weighing and stamping postage, eliminating trips to the post office. If you're in the United States, companies like Pitney Bowes are well-known for providing reliable postage meter rental services. However, understanding the associated costs is crucial before you sign on the dotted line.
Initial Rental Costs
The primary cost associated with postage meters is the rental fee. This fee varies depending on the model and functionalities you opt for. Large businesses may need more sophisticated machines capable of processing large volumes of mail quickly. Pitney Bowes, for example, offers a range of postage meters suitable for businesses of all sizes, with rental costs ranging from $20 to $1000 per month.
Postage Costs
The postage cost is not included in the rental fee. The United States Postal Service sets postage rates, which are updated regularly. Postage meter users get a slight discount compared to traditional stamp costs, saving businesses money in the long run.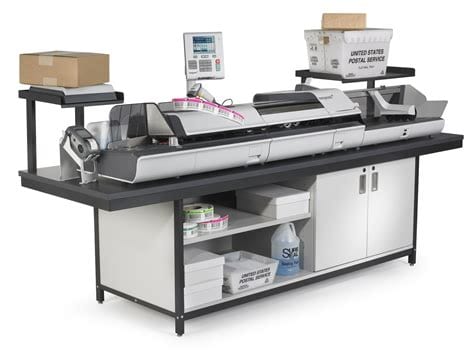 Additional Costs
Additional costs may include the price of supplies such as ink, labels, and sealing solution. The meter's maintenance and repair costs, if not covered by the rental agreement, should also be considered. Furthermore, some suppliers may charge for software updates necessary to keep your machine current with postal service regulations.
Free Trials
Some postage meter companies, including Pitney Bowes, offer free trials. This is an excellent opportunity to test whether a postage meter suits your business needs without making any financial commitment. Be sure to understand the terms of the free trial, including its duration and what happens once the trial period ends.
Postal Service Compliance
In the United States, the Postal Service tightly regulates postage meters. Only authorized dealers can rent them, and it's illegal to sell or purchase used or secondhand meters. Therefore, ensure you're dealing with an approved supplier.
Hidden Costs
Be cautious about potential hidden costs, such as late fees for returning the meter at the end of your lease or charges for exceeding your agreed-upon monthly mail volume. Always read your contract thoroughly and ask for clarification if necessary.
Customer Support
Good customer support is essential. Choose a supplier that offers timely support and assistance, including handling software updates to keep your machine compliant with the postal service regulations. Pitney Bowes has a strong reputation for providing excellent customer support.
Renting a postage meter can significantly streamline your mail processing and reduce costs. Consider your business's needs, explore various options, take advantage of free trials, and scrutinize rental agreements to ensure you make an informed decision.
COMPARE QUOTES
Leasing Postage Meters: An Essential Tool for Your Business