Pitney Bowes DM475 Mid-Volume Mailing Solution
Pitney Bowes boasts that the DM475 "redefines the standard for productivity" in comparison with other mid-range mailing volume machines. At fully automatic feed max speed of 120 letters per minute, or up to 90 lpm with Weigh-on-the-Way® technology, this machine will let you move some mail out of your office at a great rate.
This may be a great starting point when you reach a mail volume that requires some automated processing to up your efficiency. Patented Weigh-On-The-Way technology eliminates the hassle of manually sorting and measuring, making it the perfect solution to mixed size and mixed weight mail pieces up to 15 inches in length and up to 13 inches in width. The feeder can handle thicknesses up to 5/16″. Length, width, and thickness are automatically measured along with taking the weight of each item.
Convenient strip tape dispenser gives you the option to print a tape directly from the unit for affixing to larger mail items. And the integrated weighing platform can handle heavy and oversize packages that are too large to fit through the feeder, weighing items up to 10 pounds. Should you need to go larger than this, the interfaced scale option can weigh and rate up to 70 lbs of mail.
The DM475 has good performance, speed, and reliability, in keeping with the other units offered in the DM service line.
Pitney Bowes DM475 Postage Meter Review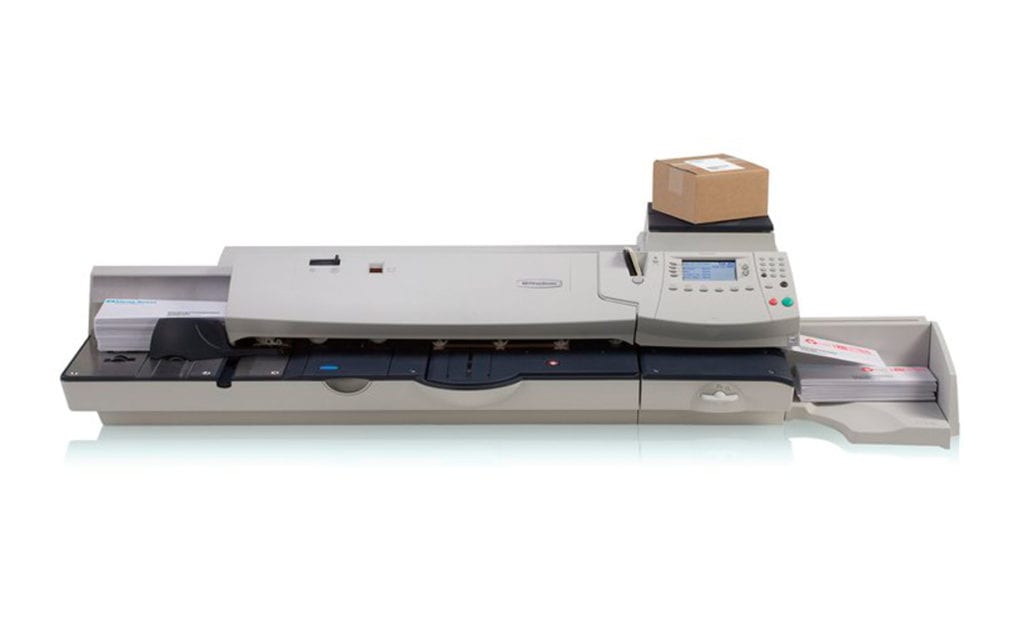 Simple to operate
Integrated weighing
Processing speeds up to 120 letters per minute (lpm)
Built-in tape dispenser
Password security
Low postage alert
Low ink alert
Dual Language Support
Up to 5/16″ thick and sizes ranging from postcards to 13″x 15″ flats
SendPro™ Online Shipping Solution
Seal only and no seal modes
High-value protection
SYSTEM DIMENSIONS (L x D x H)
Mailing system with drop stacker 61.5″ L x 22.5″ D x 12.3″ H
This medium volume postage meter can cost you anywhere from $85-$600 per month, depending on whether you need just the machine, or the whole system and which optional features you choose. Depending on where you are at in your transition of handling larger mail volumes, the savings in postage and labor costs alone could make this system one of the best investments your company makes this year.
The Pitney Bowes DM475 is a great way to increase productivity and help your business reach its full potential, and with the use of this machine, you'll be able to prepare various articles of mail very quickly. This Pitney Bowes digital mailing system is a panoramic product that changes the way we think of processing mail. This product makes processing, weighing, and sending mail out a breeze like never before.
The system allows for versatile feeding, as you can mail differently sized envelopes with varying weights. The tray in the back allows for the feeding of these mixed-size envelopes all at once. This will allow you to process a wide variety of mail very quickly. The in-line system of this product will allow you to process up to a 5/16 of an inch thickness for each envelope, and processes letters at a hundred and twenty pieces of mail per minute.
More System Specifications and Features
This product uses a special type of technology known as "weigh on the way". Use of this technology makes it easy to sort through the different weights of mail as well as sizes. This product takes into account the varying sizes and will actually price each one depending on weight. This eliminates the hassle of manually sorting through any more mail. The weight, thickness, and size of each individual piece of mail is measured and documented in a way that is displayed on the letter. Proper postage is always applied when using this product, and as it passes through the mailing system, it is printed, weighed, and measured. This solution makes complying with the USPS' prices and size guidelines a breeze.
This product also makes it very easy to comply with the shape-based parameters that are given by the USPS as well. There's also a manual weigh integrated feature on the top of this device to be able to weigh larger packages that will not fit through the weigh on the way system. This makes it highly convenient to weigh and rate packages with one machine. This also makes it easy to weigh oversized mail that is too large for the reader. The platform provided on this product can weigh up to 10 pounds per package. The interface mail option can also accommodate up to 70 pounds.
Additionally, there is a tape dispenser that allows you to print logos or other mailing information on the strip, making it easy to label larger packages. The control system of this product is virtually unmatched due to its clear resolution and easy options. It is highly effective at being able to update itself and change aspects of the way it marks mail. What this means is that while connected to the internet, this product will actually update the USPS specifications for weights and sizes. No need for you to go in and manually update the rates, but they will automatically update and be marked accordingly. Intellilink Control Center is a highly effective tool that is easy to use when learning to operate this product. This type of technology offers you, at the push of a button, to be able to access features on demand and instant system updates. It is important to highlight the highly useful pre-saved dimensions if you use a set of parameters often. This product can save up to ten preset applications of parameters, saving you hours for commonly mailed size and weight packages.
In conclusion, we hope you enjoyed the Pitney Bowes DM475 review and learning about some of the great features of this product. This product is highly effective at helping you be more productive within your business as well as making mailing anything much easier. If this product interests you, you can see a full set of details and system specs on the Pitney Bowes DM475 to help better your understanding of this product. This is one of the few, if not the only mailing system in its category that allows you to get special rates on your packages as well. This can save you up to 5% by using business rates instead of retail. Click the button below to get started by requesting a FREE, no obligation quote and see if this mailing system is right for you.