FP Postage Meter Review, Prices, Equipment
An in-depth review of FP postage meters, prices, pros & cons, and alternative solutions for your office mailing needs. Postage meters were introduced in 1920. Sometimes known as franking machines, these are devices that print postage details on a package, including the postage amount and the date.
FP Mailing is one of the leading postage meters used globally.
This brand has built its reputation with error-free mailers. They have been in the industry for over 90 years and still continue to innovate themselves, such as recycling used postage meter ink.
Are you interested in learning more about FP postage meters? Here, we offer a comprehensive guide so you can learn everything about these postage meters.
About FP Postage Meters
Before you buy one of FP Postage Meters' products, you should learn some basic information about the brand. Here's what you need to know.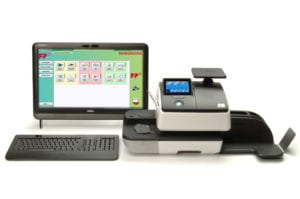 FP Mailing Solutions Location
FP Mailing is a worldwide company with many locations throughout the globe. Their headquarters are in Berlin, Germany, but they also have a U.K. location in Kent, England, and a U.S. location in Addison, Illinois.
All FP Mailing postage meters are authorized for use in their designated countries. You can also use FP postage meters for international mail.
The History of FP Mailing Solutions
FP Mailing has an amazing history. It all started in 1923 when the sales company Postfreistempler GmbH founded the Furtwängler clock factory.
From here, the company went through many changes: they renamed the company to Francotyp GmbH, owners Anker-Werke acquired shares for Postalia GmbH, and Bergmann AG took over both companies.
Fast forward to the mid-1980s. Francotyp-Postalia (FP) creates a franking system that operates on electricity, the EFS 3000. The innovation continues at the beginning of the next decade when they introduced a new machine, the world's first franking system with thermo-transfer print that's fully electronic — called the T1000.
With the creation of inkjet technology, FP creates jetmail in 1997, the first franking machine to use inkjet technology.
With the 2000s came a new generation, and FP revolutionized their brand by creating a new generation of franking machines. This includes MyMail, optimail, and ultimail.
They also released FRANKIT®-capable franking machine generation which upholds the highest security standards.
Small business series
Office series
Enterprise solutions
In the next several years, the FP Group acquired several companies. They also release centormail, which processes true mixed mail. The company expanded into France in 2011, where MyMail was now sold.

The company also made headlines with the PostBase One, the brand new high-capacity franking system. This is the ideal solution for high-volume posts requirements and it boasts efficient workflow and impressive features.
FP Mailing is now owned by Francotyp-Postalia Holding AG (FP Group) and is publicly traded.
Top FP Mailing Postage Meters
Are you interested in buying an FP postage meter? Here are our FP postage meter reviews.
PostBase Vision Series
PostBase Vision is one of the most advanced postage meters by FP. There are three models in the series:
PostBase Vision Auto
PostBase Vision Semi-Auto
Each of these models has its own unique features. But the PostBase Vision line is known for its modern and advanced technology and ease of use.
There are many pros and cons when using ProBase Vision Franking Machines.
Pros:
Features an award-winning design
Security
User-friendly interface and touchscreen
Advanced feeder and sealer
WiFi and LAN compatibility
Compact design
Cons:
You need to buy ink cartridges directly from FP
Some customers have reported they were unable to load postages
To discover the price, you must request a quote. Customers have reported they're billed monthly.

PostBase Pro
The PostBase Pro is another solution if you're looking for a high-volume franking machine. It's a user-friendly machine that features anti-skew rollers, high-speed weighing, an ergonomic touchscreen, seal check sensor, and more.
There are two models in the PostBase Pro series: the PostBase Pro and Pro DS. Both can process up to 140 letters per minute, automatic dynamic weighing, and can even handle envelopes of all sizes.
Many of the benefits have already been mentioned. A few more to note are:
Stack and go feeder
Built-in label dispenser
Differential weighing with 15-pound scale
Postage available 24/7
USPS IMI-Compliant Security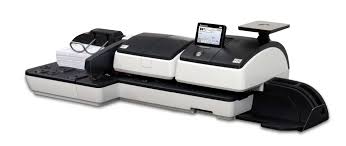 Like all of FP Mailing's postage meters, you're required to purchase their own ink. You also have to contact the company to request a quote.
PostBase Mini
The PostBase Mini has all of the benefits of other PostBase models, except it's available in a compact form.
This is ideal for small or home offices and is just as powerful as its larger counterparts; it's extremely fast and quiet, so it won't disturb anyone around you.
This one also has a full-color and user-friendly touchscreen, making this product easy to use. The PostBase Mini comes in five different colors to match your office décor or your own personal style.
Additional benefits of the PostBase Mini are:
Process up to 17 letters a minute
LAN Connection with a WiFi option
Postage available 24/7
USPS IMI-Compliant Security
There are a few disadvantages. Aside from the fact that you have to use FP's ink, you have to buy the ink from the same country you ordered the machine from.
Even though this machine is powerful, it may not be ideal if you're looking for a high-volume franking machine. You have to request a quote to receive a price.
PostBase One
PostBase One is not only their largest PostBase model but it's also one of the most efficient postage meters around, handling any high-volume job.
This franking machine features a durable external scale, high-capacity letter stacking, and powerful sealing technology.
Common problems that have been reported with the PostBase One include error messages and letter jams in the feeder and sealer. You have to request a quote to see the price.

Rent FP Postage Meters Today
FP postage meters are some of the best on the market. They're a global company with over 90 years in the industry. They can be used in a variety of different countries and offer many meters to choose from.
Do you want to try an FP postage meter but aren't ready to invest in one? You can rent FP products from us. Take a look at our rentals.

FP Top Models: