iX-3 Series Postage Meter Review
First up on the list is the top-rated iX-3 Series Postage Meter. This meter is popular for good reason. It's one of the most user-friendly postage meters available to rent.
The iX-3 is ideal for non-technical business owners who don't have immediate tech support on staff. It's small, compact, and easy to install, which saves small business owners time and frustration. The iX-3 also comes with an intuitive touchscreen control panel, which makes navigating meter features a breeze.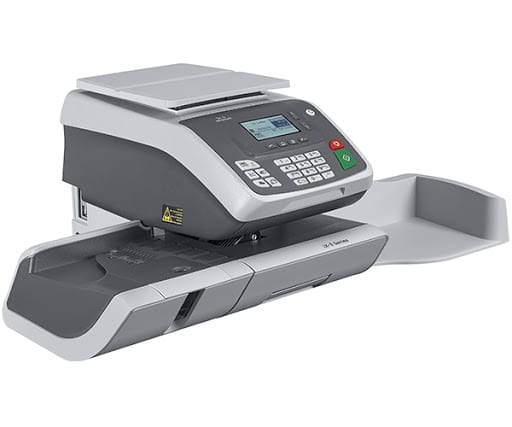 Like other modern postage meters, the Neopost iX-3 postage meter goes beyond printing postage. Business owners will be happy to learn that the iX-3 offers several solutions, including these essentials:
Quick processing
Postage expense reconciliation
Postage and mailer customization
Tracking
Enhanced reporting features
Data visualization
USPS Compliance is a crucial factor to consider when choosing a postage meter machine, as well. Not adhering to the latest USPS compliance requirements could result in a fine. The iX-3 comes with an Intelligent Mail® Indicia (IMI) to enforce compliance at all times.
The Neopost iX-3 is excellent for tracking packages, delivery details, and costs. It also monitors your ink levels. When ink levels get too low, the iX-3 sends an alert directly to your email. Up-to-the-minute ink level alerts are essential for retail and eCommerce during peak seasons.
The iX-3 is designed for small businesses that manage a high volume of mail but don't have large warehouses. Mid-size to larger companies should consider renting multiple meters to speed up processing.
It's important to note that the iX-3's Neoship PLUS shipping software is only compatible with USPS shipments. You will need to use the Neoship ADVANCED shipping software to support multiple carriers.