Postage, Pricing, Packaging and More: How to Send a Package Internationally
Do you need to send mail internationally? Don't risk putting too little postage so your mail gets delayed and returned back to you. Here is everything you need to know.
Thirty-two percent of internet users in the U.S. reported shopping online at least once a month, with 29% reporting they shop online at least once a week.
Statista also reports that in 2017, 1.66 billion people worldwide purchased goods online. It's estimated that by 2021, e-commerce will share nearly 18% of total global retail sales.
If your business serves this target audience of online shoppers, you likely ship goods to your customers often. Even if you're not frequently shipping packages, you're probably shipping marketing collateral, invoices, or other types of mail to help promote and run your business. To ensure business success, you should know how to send a package internationally and how best to send bulk letter mail.
Providing Top-Notch International Shipping is Essential to Your Business Success
No matter what you're mailing to your customers, you want them to receive their letters and packages in a timely manner. You don't want to be the business known for late shipping, delivering damaged goods, or not sharing important information. To help prevent a negative reputation for your mailing practices, you need to know the best methods for fulfilling your shipping needs.
If your business serves a global customer base, you need to know how to send a package internationally. Standards for postage, pricing, and packaging can be tricky to navigate, even if you're simply sending mail to Canada. Don't stress. We're going to lay out the basics on the best way to ship internationally, so you can be prepared.
How to Send a Package Internationally? Start by Selecting the Right Package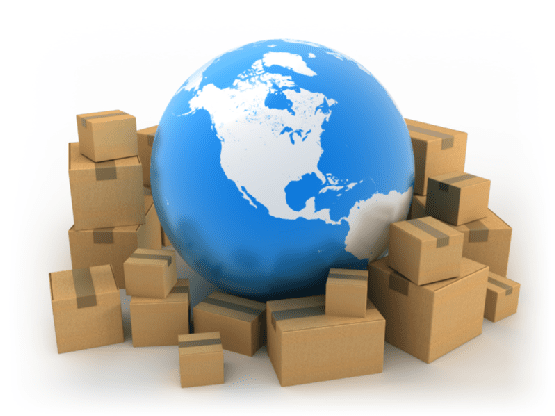 Before you can even calculate costs, you'll need to decide what you're shipping your item(s) in. The most common options include flat-rate envelopes and flat-rate boxes. Flat rate boxes are typically available in three different sizes:
Large – 23 11/16″ x 11 3/4 " x 3″ or x 12″ x 12″ x 5 1/2 "
Medium – 13 5/8″ x 11 7/8″ x 3 3/8″ or 11″ x 8 1/2 " x 5 1/2 "
Small – 8 5/8″ x 5 3/8″ x 1 5/8″
Of course, when you're figuring which size would work best for your needs, you can round to the nearest inch. So, for example, a large box would be 24″ x 12″ x 3″ and a medium box would be 14″ x 12″ x 3″.
Consider everything that needs to go in your package. Do you need bubble wrap or other padding to keep a fragile product safe? Do you send samples or booklets with each item your customer's order?
If you're mailing in an envelope, you can enjoy the advantages of quicker shipping. Flat rate envelopes sent through Express Mail offer the fastest possible delivery. Priority Mail International flat rate envelopes are delivered at a speed between Express Mail and standard first-class postage.
Learn How to Calculate Postage
Whether your customers are paying the postage fee or you are footing the bill for them, you'll need to know the accurate amount. The postage cost depends on a few things:
The weight of the package
The speed of delivery (time between shipping and delivery)
The origination and destination locations
The shape and dimensions of your package
Luckily the U.S. Postal Service website offers a postage price calculator. Enter all your information and find out the postage fee right away. If you're weighing your packages yourself, remember that the U.S. Post Office weighs by the ounce.
Be sure to include any additional services you may need. If you need a certificate of mailing – which is issued by the post office and records the date and time you mailed a package – this service will come with an additional fee. The same goes for sending packages via registered mail.
The more you know about the package you're sending, the more accurately you can calculate the shipping cost.
Choose the Right Shipping Vendor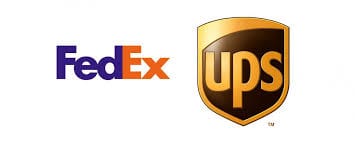 Big-name shipping vendors like FedEx and UPS are safe choices, especially for small or newer businesses. So how do you know who's the best for your shipping needs?
Stamps.com published a whitepaper called "Who's Winning the Shipping War?" with statistics on how FedEx and UPS stack up against USPS Priority Mail. Some of the information may surprise you.
For example, USPS has the quickest average delivery, with mail being delivered within just 1.79 days on average for packages shipped on Monday. Packages shipped on Thursday were delivered within 2.08 days on average via USPS, while UPS averaged 3.83 days and FedEx 3.25 days.
While many businesses may still prefer a shipping vendor like FedEx or UPS, there are aspects to consider beyond mailing time. Mailing with USPS offers an additional financial benefit. You can use postage meter machines and save money if you send through USPS.
International Shipping – Consider Purchasing a Postage Meter for Sending Large Volumes of Envelope Mail
A postage meter is a machine you can use to print an official mark on your mail to indicate that postage has already been paid, or that paid postage is not required. This tool can help you streamline your operations and greatly reduce shipping costs.
You can simply pre-fill the machine with a set amount of postage to be used and then pass your letters through the machine. The envelopes will be printed with marks that contain information like the amount of postage paid, the weight of the item, and the package's origin zip code.
A postage meter can help your employees save time and help your business save money. No more standing in line at the post office or buying stamps in bulk. The United States Postal Service even offers postage meter cost discounts.
These machines can also be used to print messages on your envelopes, which can help with marketing. You can print information about upcoming promotions or share enticing information that can encourage potential new customers to open your letter.
Optimize Your Mailing Needs with a Little Help
We're proud to offer postage meter rental for businesses looking to cut their mailing costs. In addition to renting top-quality postage meter machines, we also provide a wealth of tips and valuable information to help you optimize all your mailing operations.
We're glad to have helped explain more about how to send a package internationally, and we have informative articles on many other aspects of shipping. Check out our blog for information on topics like direct mail marketing and bulk mail benefits.