8 Ebay Shipping Tips All Sellers Should Hear
If you're an ebay seller then you should know these eight ebay shipping tips. They'll do wonders for your profit margin. Check out this fabulous advice, and put it into action today!
Are you selling like crazy on eBay but losing too much of your profit on shipping? We can help! Use these insider eBay shipping tips to protect sold items and keep more of your hard-earned moolah.
1. Know (and Check) Your Shipping Options
When an item gets sold, always check eBay's various shipping options to find the best price for shipping your item. It's really easy.
Just click the "compare shipping" link, type in the package specs, and find the best price. Of course, you must make sure you live up to any delivery deadlines you promised in your listing. So check estimated shipping times.
Furthermore, it's good to already be familiar with your shipping options. For example, for heavy items that are small-to-medium in size, you can save a lot of money shipping in a flat rate box instead of paying per ounce.
For certain items like books, papers, data drives and media discs, Media Mail is a very cheap option. It can take up to 8 days, though, so don't use it if you need fast shipping.
Another cheap but slow option is USPS Retail Ground. For large or irregular items, Retail Ground is the cheapest and, maybe, the only option. It may also be cheaper for any package that doesn't need to be delivered fast.
If you ship internationally, take the time to research any fees, customs or restrictions that apply to the locations you ship to. And lastly, make sure your items are appropriately insured by the shipping company.
2. Charge Appropriately For Shipping and Handling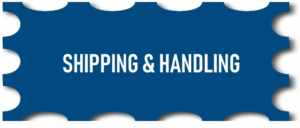 Now that you know how to choose appropriate shipping options, you can charge an appropriate shipping price. Of course, you can always choose to charge exact shipping and let eBay estimate the cost in your listing. But there are reasons why it's better to charge a flat shipping rate.
For one, it looks more official. For two, your item appears more expensive than other listings if eBay overestimates shipping cost. And three, you need to include a handling fee anyway.
After all, you're spending time on packaging and shipping and money on packing materials. Why shouldn't this cost be included in the price?
But don't over inflate your S&H costs it or you'll be in trouble. It's against eBay policy to try and profit from excessive shipping costs. Use your zip code and eBay's shipping calculator to estimate appropriate shipping costs.
For big eBay sellers, consider eBay's Shipping Partner Platform. It can save you up to 25% on postage. And it helps you to manage and keep track of your selling across multiple marketplaces.
3. Proper eBay Packaging for Regular Items
Choose a box that's slightly bigger than your item to leave room for padding. Always wrap your item in bubble wrap, packing paper or other cushiony packing material. Make sure it's padded on every side.
Use regular or reinforced packing tape over all openings, edges, and seams. Remove any previous labels on your box and clearly label the correct information. (Make it easy and just use eBay labels.)
And don't use any mail-service-specific boxes (Priority Mail, Flat Rate) that don't match the shipping service you intend to use. If you do, you'll have to repackage in a different box.
4. Proper eBay Packaging for Irregular Items
Some items don't fit in a box. Here are some packing tips for common irregularly-sized items.
For fabric, wallpaper, rugs–anything you can roll up–corrugated boxes are best. Otherwise, tightly wrap them in a thick bag taped against the roll.
For oversized metals, tape cardboard securely around any sharp corners or edges. Cover any other surfaces of the item if necessary.
For tires, you need pressure-sensitive tape. Starting from the center of the tire, wrap the tape around the outside edge and back through the center so the tape sticks to itself. Loop it around a few times until you've covered enough of the tread to apply a shipping label.
5. Look More Professional With eBay Branded Packaging
For a more authentic, "top eBay seller" look, stop shipping with used boxes from Costco. Instead, spend your packaging budget on officially-branded eBay packing materials.
You'll need packing supplies anyway. And these definitely show buyers you're a serious eBay seller.
6. Upload Tracking Information Easily With eBay Labels
You MUST upload tracking info when you ship to give customers peace of mind. It's that or bad reviews and no return customers. And it's good for your metrics, your detailed seller rating, and resolving shipping disputes.
Besides, it's so easy. Just print your eBay shipping label and slap it on the box. It looks nice and automatically has the tracking barcode and correct shipping info.
Plus, you'll pay for your discounted eBay shipping at the same time. Even if you ship through someone else, you can still print an address label through eBay. But if you do this, make sure you manually enter the tracking info when you get it.
7. Combined Shipping
Combined shipping works out better for you and your buyer. Here's how it works.
When a single buyer purchases multiple items from you, you package and ship them together in one box. This is way easier for both of you and usually cheaper.
Because it's cheaper, make sure you charge the buyer a lower price for combined shipping. Otherwise, they'll feel gypped and won't buy from you again. Plus, as we said before, it's against eBay policy to unfairly profit from shipping price.
Best of all, you can offer combined shipping on your listing as an incentive for customers to buy more items from you.
8. Let Someone Else Do It!
If you're a big seller, selling tons of items all the time, time may be a bigger problem for you than shipping price. Perhaps you spend so much time on shipping that you've had to limit how many items you list. By packing and shipping too many items yourself, you're losing money by forcing yourself to sell less.
In this case, it's probably worth it to hire a packing service to pack and ship items for you. Many shipping companies offer this service, including UPS.
And there's more good news to this approach.
You may fear you'll have to raise the shipping cost for the customer, lowering your chance of selling. But depending on how much time you save, you may be able to lower the price instead.
By reducing the time-cost of shipping and handling, you're able to list more items. And by selling more items, you can make less profit on each item and still make more profit overall. That means you can price your listings the same as before, maybe even cheaper, and still earn more money.
Boost Your Selling With These eBay Shipping Tips
Use these eBay shipping tips to become a better seller.
Now check out 8 Secrets of a Post Office Carrier.