Postage Meter Buying Guide – How To Get The Best Postage Machine
Wait, your business doesn't use a postage meter but you send mail? You're missing out on tons of benefits. 
Though e-mail and digital media are changing the way companies communicate, the reality is that postal mail isn't going anywhere.
Almost every company has a level of outgoing mail that needs to be sent out on a regular basis. Yet, sending someone to wait at the post office each day can be a costly and time-consuming effort.
That's where a postage meter comes in.
This is a business asset that allows you to handle your corporate postage needs in-house, saving you money — and tons of valuable time.
Let's break down everything you need to know about buying a postage meter. With this guide, we'll help you navigate the journey toward a more streamlined and successful mailing experience.
What is a Postage Meter?
A brief overview of what a postage meter is:
Put simply, it's a machine that affixes pre-paid postage information onto your mail.
With the exception of periodicals, a postage meter can be used for a variety of mail types from first-class mail to special deliveries. It takes the place of a regular stamp and serves to prove that you've paid your required postage.
How Do Postage Machines Work?
When you're ready to use the machine, you simply run the mail through it. Then, it prints a strip of ink in place of where a traditional stamp would be. It could also print the ink onto a meter tape that sticks to your mail.
This ink mark is referred to as indicia, and may also be called a frank. It includes pertinent information that identifies your mailing and helps it travel through the postal system.
On the far right side, you can find the price of your postage. You'll also see data on the weight of your item, the zip code of your mailing location, and the mailing classification it falls under.
Some advanced models also include a code that allows you to track your mail as it travels to its destination.
How Do You Pay for Postage in My Meter?
So how does the machine know how much postage to assign to your parcel, and how do you pay for it?
Most meters include a built-in scale that weighs the item. Then, using rates defined by the United States Postal Service (USPS), it determines how much postage you owe.
When you rent a postage meter, you can often choose from multiple ways to pay for your postage.
You might choose to pre-pay for your postage. In this case, you can put money into a reserve account set up by your meter provider.
You can also schedule electronic deposits to hit when your account reaches a set level. This takes the guesswork out of ensuring you're always equipped with what you need.
Or, you may opt to pre-pay for your postage through the USPS. You can do so by setting up an account that you can fill through payment slips, online transfers, or checks by mail.
As an alternative to pre-paid postage, some postage meter rental companies may allow you the option to pay later. In this case, you essentially set up a credit line with the rental company. Then, you just add the postage as needed, and the company sends you a bill.
What are the Different Types of Postage Machines?
Depending on the size of your business and the volume of mail you typically handle, the size of meter you require will vary. The good news is there are multiple size options to pick from.
Small-volume machines are designed to fit on your desktop. They are usually less than 10 pounds and feature a manual feed, where you insert each piece of mail yourself.
Due to their form and function, these smaller-scale machines are best suited to handle more lightweight mailings, such as letters and thin packages weighing five pounds or less.
If you need a machine that's a little more robust, a semi-automatic or mid-sized digital solution may be ideal. A step up in size and scale from a personal desktop model, these models are flexible enough to handle smaller loads with ease, yet also deliver on large-volume orders.
For heavy-duty applications, a high-speed mailing system focused on speed and agility is best. These can automatically process and meter mail at unfathomable speeds, with some processing more than 25,000 pieces of mail per hour!
How Much Do Postal Machines Cost?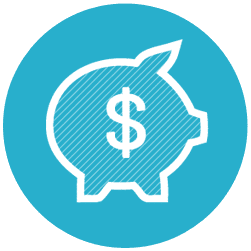 Calculating the price of your postage meter will depend on the specific model you select, the price set by the rental company, and how long of a lease you enter into.
As a general rule of thumb, expect to pay up to around $50 per month for smaller-volume machines. On the other hand, heavy-duty solutions can carry a monthly rental fee of more than $1,000.
Keep in mind that these are only the basic rental costs. If you spring for any "extras" such as letter folders, you'll likely pay an extra upcharge.
Many providers allow you to either rent or lease your machine. While renting involves paying for your machine each month, these prices are less consistent than leasing, which allows you to set a firm rate and payment schedule.
It's important to note here that the USPS strictly regulates postage meters. As such, no one can "buy" them. Rather, they are always rented or leased.
Benefits and Why Should I Buy a Postage Meter?
When you rent a postage meter, you're freed from spending your lunch break figuring up postage, finding stamps, gathering money, and driving to deliver your mail.
You're also saving money, as you'll always be guaranteed that the amount you pay for postage is precisely measured according to the weight of your mailing. That means no more costly overpayment or second-guessing whether or not your mail will go through.
Also, many meters allow you to access USPS discounts on certain mail services, such as priority mailings.
In addition, you can also leverage your meter to inject personality and branding onto your envelopes and packages. This is especially beneficial when working on direct mail marketing campaigns or other promotional initiatives.
In addition to the indicia, the meter can also print a custom message onto your mailings, which can be adjusted as your campaigns switch. This can help your mail stand out from the rest!
Postage Meters That Pass the Test: Rent or Lease Today
Is your company in the market for a postage meter? After you review the best postage meters, we'd love to help.
We provide savings on metered postage machines for our customers. Suppliers stock more than 1,500 machines from more than 100 dealers. This means we'll always be able to find you the machine you need.
To get started, feel free to browse through some equipment. Then, request a quote today and change the way your company mails!