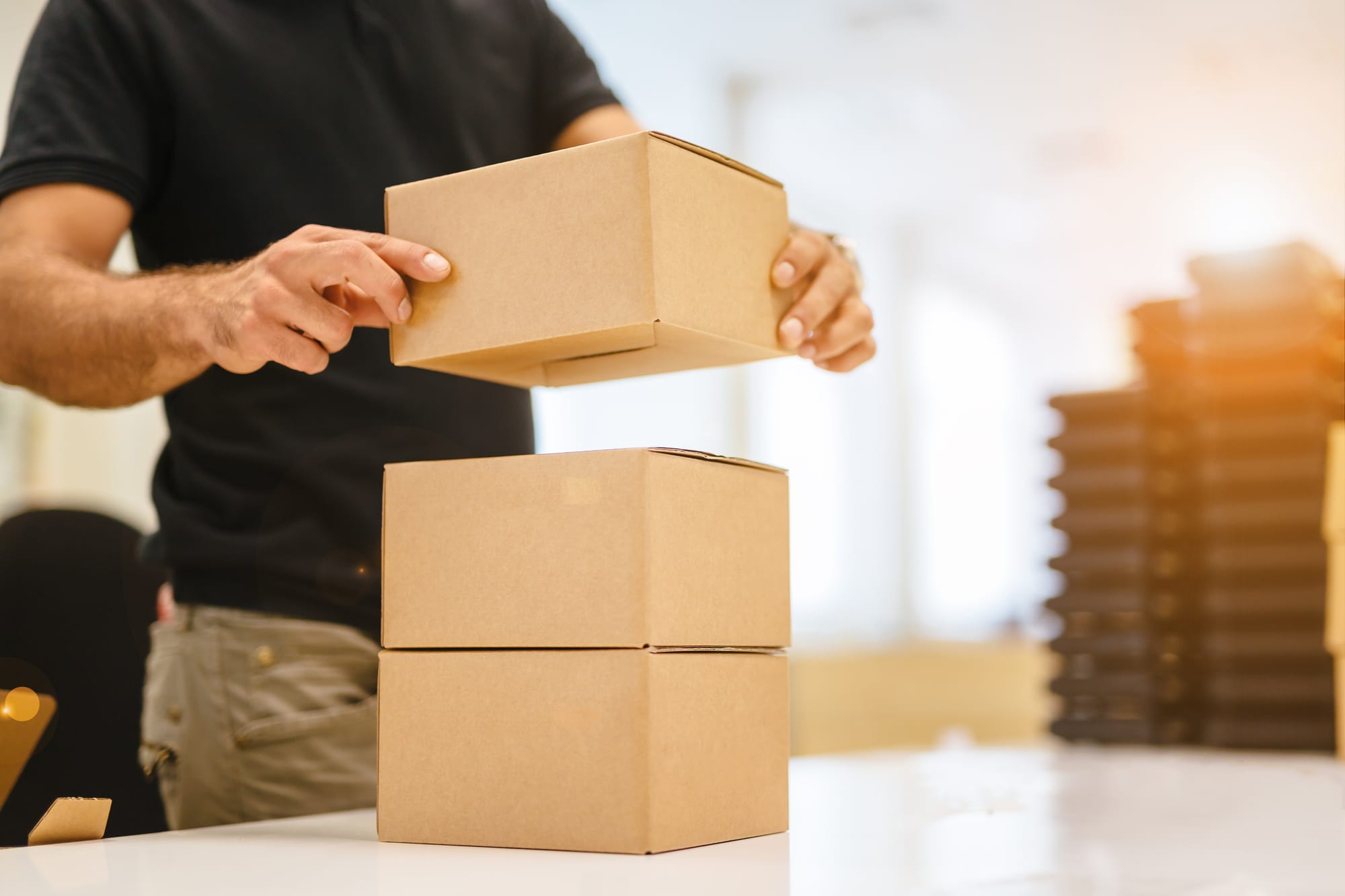 How Does a Postage Meter Work? Understanding the Ins and Outs
In today's fast-paced digital world, there's still a significant demand for traditional mail services, particularly in the business sector. Whether it's sending invoices, promotional materials, or general correspondence, businesses often rely on postal services to maintain communication with clients, suppliers, and stakeholders. One tool that has simplified the mailing process for businesses is the postage meter. But how exactly does a postage meter work? Let's delve into the intricate mechanisms and functionalities of this essential office equipment.
Compare Prices
What is a Postage Meter?
A postage meter, often referred to as a postal meter or mail meter, is a device that prints postage directly onto envelopes or labels for mailing. It effectively eliminates the need for individual postage stamps for every piece of mail. Instead, postage meters print a digital stamp, also known as an indicium, which is recognized and accepted by postal services as a legitimate form of postage payment.
Components of a Postage Meter
A postage meter generally consists of the following components:
Base: This is the primary component that prints the postage. It's where the weighing, rating, and imprinting of the postage occurs.
Scale: Attached to the meter, the scale weighs the mail and calculates the correct postage based on current postal rates.
Feeder: This component feeds envelopes into the machine for printing.
Tape Dispenser: For packages or oversized envelopes, the meter prints postage onto adhesive tape strips.
Sealer: It moistens and seals the envelope flap, making the mailing process faster.
Stacker: After printing, the envelopes are stacked in order.
The Working Process
Setting up the Machine: Before use, the machine must be filled with funds. Users can add funds online through the meter's connected service. The device then connects to the service provider's server, either through the internet or a dedicated phone line, and downloads the postage funds.
Weighing: Place the mail item on the scale. The meter automatically weighs it and determines the postage cost based on the weight and the current postal rate.
Selecting Mail Class: Users can choose the appropriate mail class (e.g., First-Class, Priority Mail) and any additional services like tracking or insurance.
Printing Postage: Once the mail class is selected and the cost determined, feed the mail piece into the machine. The postage meter then prints the indicium directly onto the envelope or onto a label.
Sending the Mail: With the postage printed, the mail is ready to be dispatched. There's no need for a special trip to the post office as the mail can be handed directly to mail carriers or dropped in a mailbox.
Account Tracking: Most modern postage meters come equipped with account tracking capabilities, allowing businesses to monitor postage costs for various departments or clients.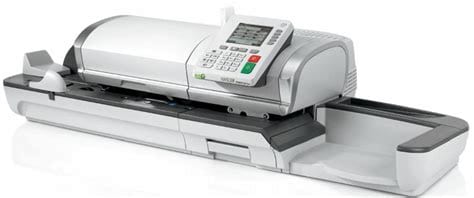 Benefits of Using a Postage Meter
Cost Savings: Businesses can save money, especially if they send out large volumes of mail, as they often receive discounted postage rates.
Efficiency: The mailing process is streamlined, reducing the time taken to prepare and send out mail.
Professional Appearance: Printed postage gives a more professional look to mail compared to traditional stamps.
Accurate Postage: The built-in scale ensures the correct postage is applied, preventing overpayment or returned mail due to insufficient postage.
Regulations and Restrictions
It's essential to note that postage meters are regulated by national postal authorities. In many countries, it's illegal to sell postage meters. Instead, they are leased through authorized providers. All printed postage must also adhere to specific guidelines and the meters must be regularly inspected and recalibrated.
Compare Prices
A postage meter is a valuable tool for any business, large or small, that regularly sends out mail. By understanding how it works, businesses can leverage its capabilities to improve efficiency, save money, and project a professional image. Whether you're a small business owner looking to streamline your mailing process or an office manager seeking ways to cut costs, a postage meter might be the perfect solution.
Are Postage Meters Cheaper than Traditional Postage?
For businesses that frequently send mail, finding cost-effective solutions is crucial. Traditional stamps have been the go-to method for decades, but the advent of postage meters has revolutionized the mailing landscape. But is using a postage meter really more cost-effective than traditional stamps? Let's break it down.
Understanding the Cost of Traditional Postage
When using traditional postage methods, the costs involved aren't just about the stamps. One must factor in:
Physical Purchase: Going to the post office, waiting in line, and purchasing stamps can take up a significant amount of time, especially if done frequently.
Storage: Maintaining an inventory of various denominations of stamps requires space and organizational tools.
Wastage: There's a risk of over-stamping if the exact postage isn't available. For instance, if you have a letter that requires $0.55 worth of postage and you only have $0.70 stamps, you'll end up overpaying.
Rate Changes: Postal rates can change, and when they do, you may be stuck with old stamps that don't cover the full cost of current postage.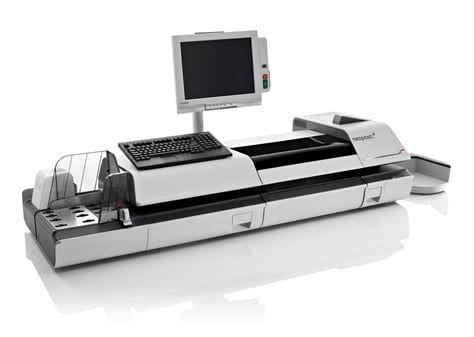 The Economics of Postage Meters
Postage meters come with their own set of costs, but they also offer several advantages:
Discounted Rates: In many countries, postal services offer discounted rates for metered mail. For instance, in the U.S., the USPS offers reduced rates for First-Class metered mail compared to stamped mail.
Exact Postage: Since the mail piece is weighed and the postage is printed accordingly, you'll never overpay or underpay. This precision can result in significant savings over time.
Efficiency: The time saved by not having to go to the post office and the quick processing of large mail volumes can indirectly save money, especially when considering labor costs.
Integrated Features: Many postage meters come with added features such as account tracking, which can help in monitoring and reducing unnecessary expenses.
Leasing Costs: It's essential to factor in the cost of leasing the equipment and any associated fees. Depending on the volume of mail and the specific needs of the business, there are various models available at different price points.
Making the Decision
While at first glance, the costs associated with leasing and maintaining a postage meter might seem higher than traditional postage, the actual savings become evident when you consider the time saved, the reduced rates, and the exact postage calculations. For businesses with moderate to high mail volumes, the benefits of a postage meter usually outweigh the costs.
Compare Prices
However, it's essential to conduct a thorough cost analysis tailored to your business's specific needs. If your mailing volume is relatively low, and you don't foresee a significant increase in the near future, traditional postage might still be the more economical choice. Conversely, businesses with higher mailing requirements will likely find that a postage meter is not only a time-saver but also a cost-effective solution.
The choice between traditional postage and a postage meter should be based on an analysis of costs, efficiency needs, and the volume of mail your business typically handles.
Benefits of Postage Meter Machines
Postage meter machines have revolutionized the way businesses handle their mailing needs. These machines, which come in various sizes and capabilities, are designed to simplify the mailing process, improve accuracy, and save time. Here's a deeper dive into the benefits of adopting postage meter machines for your business operations.
1. Time Efficiency
Postage meters significantly reduce the time spent on mailing tasks. With these machines, there's no need to frequently visit the post office to buy stamps or to get mail weighed and priced. Businesses can print the exact postage they need, right from their office, streamlining the entire process.
2. Cost Savings
Using a postage meter often results in direct financial savings. Most postal services offer discounted rates for metered mail. Additionally, because the mail is weighed precisely, businesses only pay for the exact postage required, eliminating the risk of overpaying.
3. Professional Appearance
Metered mail gives a professional look, which can be especially important for businesses aiming to present themselves credibly. The neat, printed postage is more attractive than a handwritten address or a stamp, and this polished appearance can positively influence the recipient's perception of your brand.
4. Improved Accuracy
Postage meters reduce the errors associated with manual processes. The in-built scales ensure that each mail piece is assigned the correct postage, reducing the chances of mails being returned due to insufficient postage.
5. Enhanced Tracking
Modern postage meters often come equipped with tracking features. Businesses can monitor their postage expenses, keep track of sent items, and even allocate costs to specific departments or projects, offering a clear view of mailing expenditures.
6. Flexibility
Different models of postage meters cater to varying business needs. Whether you're a small business with limited mailing requirements or a larger enterprise with massive mailing volumes, there's likely a postage meter that's tailored to your specific requirements.
Compare Prices
7. Security Features
Many postage meter models offer secure features like password protection, ensuring that only authorized personnel can access the machine. This not only safeguards against misuse but also helps in maintaining accurate records.
8. Easy Updates
Postage rates can change over time. With a postage meter, updating to the new rates is often as simple as downloading a software update, ensuring businesses always pay the correct amount without needing new stamps or recalculations.
Incorporating a postage meter into your business operations can bring about a transformative change in how you manage your mailing processes. With the plethora of benefits they offer, it's no wonder that more and more businesses are making the shift from traditional postage methods to these efficient machines.
Top Postage Meters in 2023
Selecting the right postage meter is crucial for maximizing efficiency and cost savings. 2023 has seen the rise of several notable models that stand out for their performance, features, and reliability. Here are some of the top postage meters of the year:
1. MailMaster Pro X1
Widely regarded for its rapid processing speed and user-friendly interface, the MailMaster Pro X1 is ideal for medium to large businesses with regular mailing needs. Its high-resolution color touch screen simplifies operations, and its integration capabilities with third-party software make accounting and tracking a breeze.
2. QuickStamp UltraLite
Best suited for small businesses or home offices, the QuickStamp UltraLite is compact yet powerful. Its affordability combined with essential features, such as automatic rate updates and digital weighing, make it a favorite among startups.
3. SendIt MaxStream Z5
Renowned for its high-volume handling capabilities, the MaxStream Z5 caters to enterprises with massive mailing demands. With advanced security features and seamless integration with various shipping carriers, it offers both flexibility and peace of mind.
4. PrecisionPost Elite 8.0
PrecisionPost has always been a trusted name in the industry, and the Elite 8.0 is no exception. With features like envelope sealing and dynamic weighing, it eliminates many manual tasks, saving time and reducing errors.
5. EcoPost GreenSaver
A notable mention for businesses keen on sustainability, the GreenSaver boasts eco-friendly features like power-saving modes and recyclable cartridge systems. It efficiently marries technology with environmental consciousness.
6. TrackNPost BusinessOne
BusinessOne is for firms that prioritize tracking and analytics. It offers detailed reports on postage expenses, integrates with CRM systems, and provides insights that can be invaluable for optimizing mailing strategies.
7. ExpressMail CompactTouch
A perfect blend of compact design and robust functionality, the CompactTouch is ideal for businesses with space constraints. It also supports wireless connectivity, allowing for remote operations and updates.
Compare Prices
8. PostPerfect Ultra 9000
A beast in its capacity and speed, the Ultra 9000 is the go-to choice for businesses like e-commerce platforms with diverse mailing needs. It can handle different mail sizes and offers bulk mailing discounts.
9. SimpliSend Digital Pro
This model stands out for its digital capabilities. Digital Pro allows businesses to convert traditional mails into digital formats and vice versa, offering a unique blend of old and new mailing methods.
10. PostEase TwinTurbo
Equipped with dual printing heads, the TwinTurbo can print addresses and postage simultaneously. Its high-speed operation is unmatched, making it suitable for promotional campaigns or any high-volume mailing scenario.
The ideal postage meter for your business hinges on your specific requirements. Whether it's high-volume processing, detailed analytics, compactness, or sustainability, 2023 offers a range of models tailored to diverse needs. As always, it's recommended to conduct a thorough review and possibly even a trial run before finalizing your choice.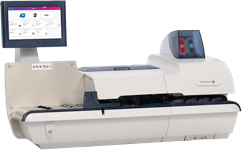 Everything You Need to Know About Renting a Postage Meter
Renting a postage meter is often a preferred option for many businesses. It offers the convenience of having a meter without the commitment of purchasing one. If you're considering this option, here are the key factors to understand:
Regulations and Guidelines
It's essential to be aware that in many countries, including the United States, it's illegal to own a postage meter outright. The meters remain the property of the authorized manufacturers or suppliers, and businesses can only lease or rent them.
Duration of Rental
Postage meters are available for varying rental durations. Whether you need one for a short-term project, seasonal demand, or long-term use, suppliers offer flexible rental agreements to accommodate different needs. It's crucial to determine your requirements and opt for a duration that aligns with your business operations.
Cost Implications
Renting a postage meter involves more than just the base rental fee. Additional costs can include:
Monthly rental or lease fees.
Refill costs for ink or labels.
Maintenance or service fees, if not included in the rental agreement.
Overage fees if you exceed your monthly mail or weight limits.
Understanding the full cost structure can help in budgeting and ensuring that there are no unexpected expenses.
Features and Upgrades
The rapidly evolving tech landscape means that newer, more advanced postage meter models are continually emerging. When renting, ensure the model you choose has the features you need. Moreover, inquire about the possibility of upgrades during the rental period, should your needs change.
Maintenance and Support
One significant advantage of renting is that maintenance and support often come as part of the package. It's essential to clarify the terms of service. For instance, how quickly does the supplier promise to fix a malfunctioning unit? Is regular maintenance included, or is it charged separately?
Termination and Renewal
Before entering into a rental agreement, be clear about the terms of termination. Can you return the unit without penalties if it's no longer needed? On the other hand, if you find the meter indispensable, how easy is it to renew the rental agreement?
Compare Prices
Training and Onboarding
Using a postage meter requires a certain level of familiarity. Most reputable suppliers will offer training sessions for your staff, ensuring they can operate the machine efficiently and troubleshoot minor issues.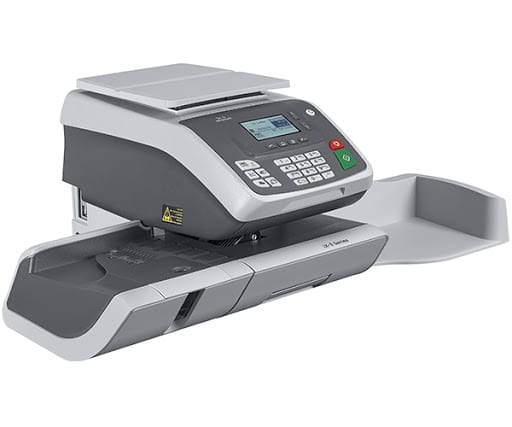 While renting a postage meter offers numerous advantages, it's crucial to be well-informed before committing. A well-chosen postage meter can streamline operations, save costs, and enhance business productivity. On the other hand, a hasty decision without considering the aforementioned factors can lead to unforeseen complications and costs. Always engage with reputable suppliers, ask questions, and make an informed choice.
Understanding The Legalities of Postage Meters
Understanding the legal framework surrounding the use of postage meters is crucial for businesses to ensure they operate within the confines of the law. Ignorance can lead to severe penalties and disruptions in mail handling processes.
Ownership Restrictions
Lease and Rental: In many countries, including the United States, it's illegal for businesses or individuals to own a postage meter outright. Instead, these devices can only be rented or leased from authorized suppliers.
Transfer Prohibitions: Even in a lease scenario, companies cannot resell, sublease, or transfer their postage meters to other entities without the approval of the authorized supplier or postal authority.
Mail Processing Rules
Tampering: Any tampering with a postage meter is illegal. This includes attempting to reset counters, manipulate ink to print more stamps than charged for, or any unauthorized modifications.
Refunds: If a postage meter prints an incorrect value or makes a mistake, there are procedures in place for obtaining refunds. However, trying to misuse this system can have legal repercussions.
Date Settings: The date on a postage meter must always be accurate. Setting a previous date to make mail appear timely or a future date to postdate mail is a violation of most postal regulations.
Licensing and Permit Requirements
Mandatory Registration: Upon renting or leasing a postage meter, businesses must register the device with the respective postal authority, providing details like the model, serial number, and operational address.
Postage Payment: Postage meters do not eliminate the need to pay for postage—instead, they offer a more efficient way. Businesses must ensure they have adequate funds in their postal accounts.
Authorized Suppliers
Approved Devices: Not all postage meters are legal in every country. It's essential to rent or lease devices that are approved by the national postal authority to avoid any legal complications.
Inspections: Postal authorities reserve the right to inspect postage meters periodically to ensure they are in good working condition and are not being misused.
Compare Prices
While postage meters streamline the mailing process for businesses, it's paramount to understand and adhere to all legalities associated. Operating within the stipulated guidelines ensures seamless mailing operations and keeps businesses out of legal trouble.
How Much Do Postage Meters Cost?
Investing in a postage meter can lead to significant savings and efficiencies for businesses, especially those with substantial mailing needs. However, before making the leap, it's crucial to understand the full spectrum of costs associated with these devices.
Initial Rental or Lease Costs
While purchasing postage meters outright is typically not an option due to regulations, businesses can expect to spend anywhere from $20 to $200 per month on renting a basic machine. This range varies based on the machine's capabilities, processing speed, and additional features.
Volume-based Pricing
The more mail you process, the more you'll likely spend on your meter. Some suppliers offer tiered pricing, where the monthly rental fee might increase as you handle a larger volume of mail. It's essential to assess your monthly mailing needs and choose a plan that aligns with your operations.
Ink and Supplies
Over time, ink cartridges will need replacing. Depending on usage and the specific model of your machine, you can expect to spend anywhere from $50 to $300 annually on ink. Additionally, there might be costs associated with labels, sealing solution, or other materials necessary for the machine's operation.
Maintenance and Repairs
Most lease or rental agreements will include some provision for maintenance. However, if a business is responsible for any damages outside of typical wear and tear, repair costs can add up. It's always a good idea to clarify maintenance terms in your agreement and understand potential out-of-pocket expenses.
Postage Costs
While a postage meter simplifies the mailing process, businesses still need to pay for the actual postage. This means regularly topping up the meter with funds. The good news is that many postage meter providers offer discounts compared to traditional postage rates, leading to overall savings.
Additional Features
Modern postage meters often come equipped with a variety of advanced features, from integrated scales to detailed analytics. While these can enhance the efficiency of your mailing operations, they might also come with additional costs, either as one-time fees or monthly add-ons.
Early Termination or Upgrade Fees
If a business decides to upgrade its machine or terminate its lease early, some suppliers might charge fees. It's vital to read the fine print of any agreement and understand potential charges related to changes in service.
Compare Prices
While the upfront costs of a postage meter might seem straightforward, it's essential to factor in all potential expenses over the machine's lifecycle. By understanding the complete cost structure, businesses can make informed decisions and ensure they get the best value from their investment.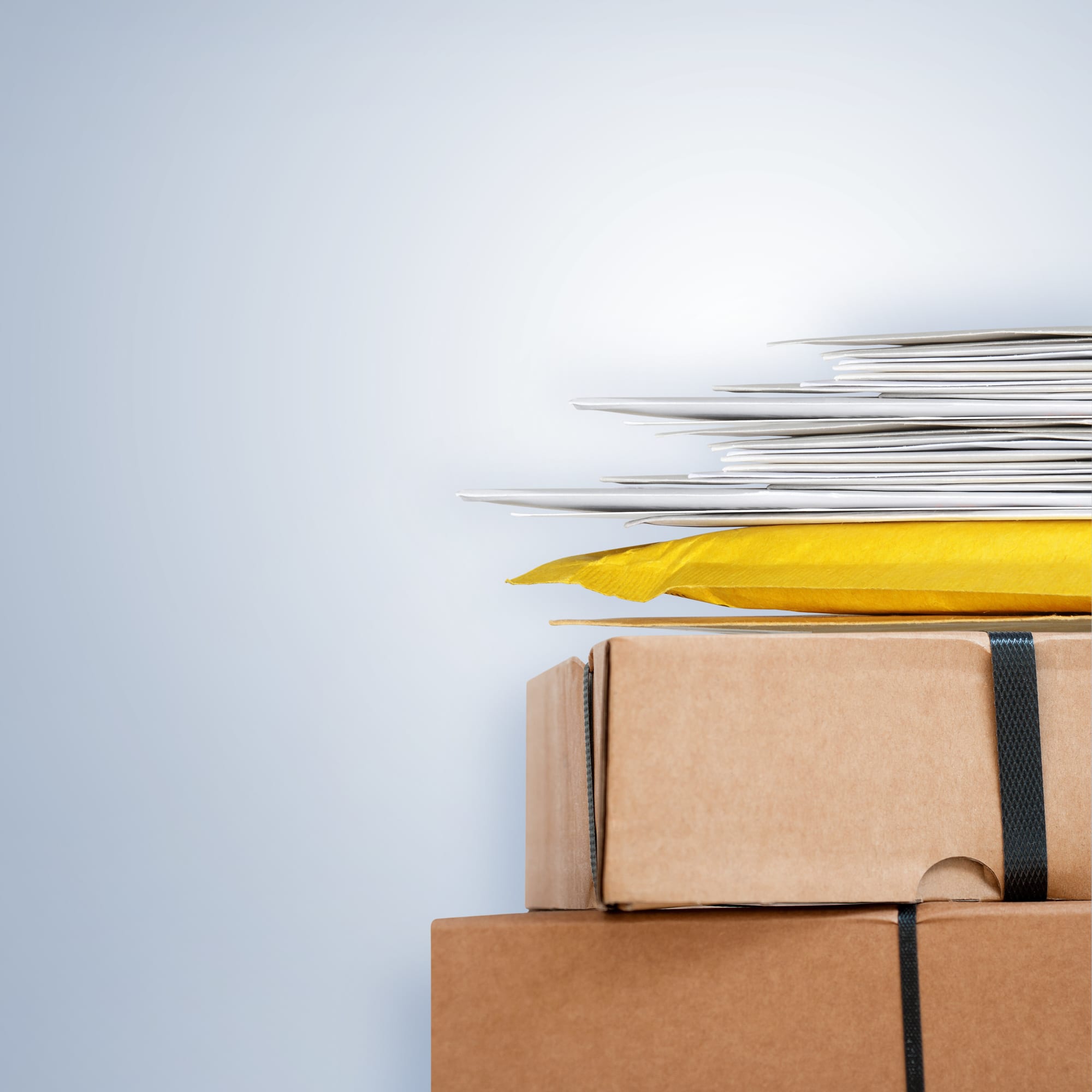 How to Use a Postage Meter in 5 Easy Steps
Using a postage meter is a simple and streamlined process that adds efficiency to your mailing tasks. Regardless of the model or manufacturer, the basic operation of these devices remains consistent. Here's a step-by-step guide on how to use a postage meter:
1. Setting up Your Postage Meter
When you first get your postage meter, you'll need to set it up. This involves:
Connecting it to a power source.
Installing any software or drivers if required.
Registering the device online or through the provided platform, which will usually involve creating an account and linking it to a funding source.
Loading funds onto the machine.
2. Preparing Your Mail
Before you stamp your mail with postage:
Ensure each letter or package is appropriately sealed and addressed.
If your postage meter includes a built-in scale, place your mail item on it to determine its weight. This ensures you pay the exact postage amount.
3. Selecting the Postage Type
Depending on your machine's capabilities, you may have various postage types and services to choose from:
First-class, priority, media mail, etc.
Additional services like delivery confirmation or insurance.
Use the device's interface to make your selection based on your mail's requirements.
4. Printing the Postage
Once you've determined the correct postage:
Insert the mail item into the designated slot or feed.
The machine will automatically print the correct postage onto the mail item. Some models might print directly onto the envelope, while others might print on a label that you then affix to your mail.
5. Mailing Your Items
With the postage printed, your mail is now ready to be sent out:
Drop smaller items in a mailbox.
For larger volumes or packages, you might prefer to drop them off at a post office or arrange a pick-up, depending on the services offered by your postal carrier.
By familiarizing yourself with these steps and the specific features of your chosen postage meter, you'll soon find that handling outbound mail becomes a faster, more efficient process for your business.
Compare Prices