Best USPS Postage Meter Types in 2019
For businesses small or large, renting USPS postage meters is a cost effective way of managing outgoing mail. Consider these tips for choosing the best.
Do you own, run, or work at a business that sends a lot of outgoing mail? Then you probably spend a small fortune on postage every week, maybe even every day.
Wouldn't you be over the moon for an opportunity to save money, time, and energy when it comes to your business's postage? Well, today's your lucky day! Did you know you can rent a USPS postage meter?
For businesses small or large, renting USPS postage meters is a cost-effective way of managing outgoing mail. Consider these tips for choosing the best kind of USPS meter.
Your Business's Specific Metered Mail Needs
First, consider your business's specific needs. Which postage meter is best for you depends on the following factors:
1. Mail Volume
How much mail do you send per day on average? This is an important question to consider. Think envelopes, flat rate mailers, packages, large boxes, all of it.
Here are some reliable parameters:
Less than 25 parcels per day
25 – 200
201-500
500-1000
1000+
2. Money on Postage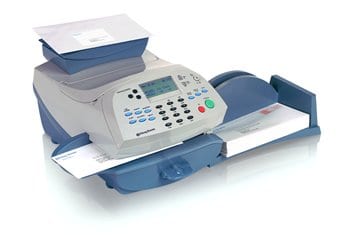 Are you aware of how much money your business spends each day to send mail? For the next week, closely monitor your mailing costs every day. Determine which bracket you fall into:
Under $100
$100 – $250
$250 – $500
$500 – $1,000
More than $1,000
3. Time & Energy
You also must take into consideration the time and energy you or your employees or colleagues put into outgoing mail. Do you have to leave work, drive a long distance, and wait in line to send each parcel?
Do you have to stand there and wait as the clerk weighs, labels, and charges every single one of your items? This process may seem "free" to you, but you're using your precious time at the post office!
Take a step back and really consider how much time you and your business use on this. Also factor in the energy and brainpower it requires.

When Personal Postage Meters Are Handy
Did you know that the USPS is actually suffering because of all the other ways there now are to communicate? First came fax, then email, then instant messaging, now texting! Not many of us send personal cards and letters anymore.
But if you're a business owner, you know that your need for the postal service will never die. Some things have to be on paper and must be sent in the physical mail!
If you fall into any of the higher brackets under volume and money, and you find that you spend considerable time and energy on outgoing mail, a rented postage meter would be incredibly handy for you! Click here to answer the questions above and find out what's recommended for you.
Not only does it save you work, time, and energy, it also can save you money! Did you know that all rented postage meters qualify for postage discounts?
So you can send your high-volume, high-frequency mail at a reduced cost. It's kind of like you're being rewarded for sending so much mail. Isn't that a no-brainer?
If you don't go with your own postage meter and just use priority mail, you'll actually end up spending more in the long run. That's because no matter your parcel's weight, you're paying a flat rate.
So you could be paying more than necessary! On the other hand, postage meters come with their own scale, so you know the weight and subsequent charge are accurate.
Which USPS Postage Meter Is Best For You?
Postage meters are classified by capacity. Their capacities then line up with small business needs, medium metered and postage needs, and heavy volume needs.
Low Capacity
Manual feed
16-20 letters per minute
2-25 pound scale
This would best serve a small business.
Medium Capacity
Automatic feed
20-85 letters per minute
15-35 pound scale
This would best serve a small or medium-sized business.
High Capacity
Automatic feed
85-175 letters per minute
Dynamic scale
A high capacity postage meter would best serve a large, established business that sends a high volume of outgoing mail.
After you determine the capacity your business requires, you can request a quote to get an idea on pricing. Never rent a postage meter blind, without a quote! Getting the quote not only helps you understand the pricing, it also gives you a chance to ask questions and better establish what machine will suit your needs.

2019 Postage Meter Features – What to Look For
As can be expected, postage meter machines are more advanced than ever in 2019! They're designed to make your job easier, more convenient, and more cost-effective in just about every way.
Here are some of the features you can expect to see and experience in 2019. What they look like depends on the model, of course, but this is what they are and what they do:
Postage Meter
First, the actual postage meter. This is simply a machine that prints a stamp that proves the postage has been paid.
You pay the amount owed, print the stamp, stick it on your envelope or package, and then there's no need for you to wait in line at the post office! The main part of the whole machine is this printer.
Feeder
The feeder is found on the base of the postage meter, below the printer. This is where you put your letters to be counted and sorted.
The speed of the feeder depends on the size of the meter. Small meters also tend to have manual feeders while larger meters have automatic ones.
Stacker
The stacker is a little tray that catches your envelopes as they come out of the feeder. Simple stackers keep your envelopes in a nice little pile for you. More complex stackers have a conveyor that moves the envelopes along.
Sealer
Did you know that a postage meter seals your envelopes for you? No more licking, sponging, or taping!
The sealer moistens and closes the envelope's flap as it goes through. This feature alone makes a leased postage meter worth it!
See How Postage Meters Can Change Your Business! 
If you've been taking your business's outgoing mail to the post office then you probably didn't know much about rentable postage meters. A personal postage meter for your company can make your life so much easier!
No more standing in line waiting for the clerk to weigh, measure, stamp, and charge. You and your business can benefit from having a USPS postage meter in your office.
Check out this page for more information regarding rentals! Don't hesitate to make your business and your life more efficient and cost-effective.